General Information
The following information provides general equipment and service information that will help you to use this manual to properly repair and maintain the treadmill.

Orientation
The equipment orientation (front, right, left, back) used in manual is referenced to a user standing on the equipment facing the console.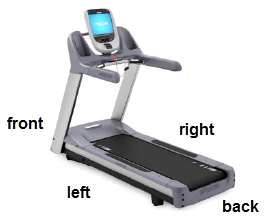 Tools
General set of service and repair tools.
US and Metric Hex Key set

Standard and Philips screw driver set

US SAE and Metric Wrench set

Crank Puller (recommended Park Tool CCP-22)

US SAE and Metric socket set

Belt Tension Gauge (recommended Kent-Moore BT-33-73-F)

Running belt tension gauge
(pn PPP00000002000710

 

Parts
IMPORTANT

:  Always purchase OEM replacement parts and hardware from Precor. If you use parts not approved by Precor, you could void the Precor Limited Warranty. Use of parts not approved by Precor may cause injury.
Exploded View Diagram and Parts List
There is a copy of the parts Exploded View Diagram and Parts Identification List included in the Parts chapter that you can use as a quick reference. It is recommended that you go to the servicer partners

Precor Connect (or Precor Connection) website to view the most current parts information including the Exploded View Diagram and Parts Identification List.
Exploded View Diagram and Parts list, see Parts.
.

>
Lubricants
Use only NLGI class 2 PTFE (Teflon) synthetic type grease (recommend Mobil 1® synthetic grease or Super Lube® with Teflon grease, or equivalent). Use of unapproved lubricants, cleaners, or solvents may void the product warranty.

CAUTION: Do not apply any lubricants or wax to the deck and belt. Do not use Wax Blast, silicon sprays, or other applied lubricants. The use of these lubricants will quickly degrade the low-friction surface of the deck.

CAUTION: Do not use petroleum based lubricants on mechanical components such as the lift, as this may result in degradation of nylon gearing mechanisms. Use only synthetic lubricants such as "Super Lube with Teflon" or "Mobile One Synthetic" grease (RED).
Use of unapproved lubricants, cleaners, or solvents may void the treadmill warranty.

Cleaning Solutions
Wipe down equipment with recommended cleaning solution. Use dry cloth to remove residue solution.
General: 1 oz. mild soap (Simple Green) to 30 oz. water.
Console and PVS

Personal Viewing System display.

: a diluted solution of one part 91% Isopropyl alcohol to one part water.
| | |
| --- | --- |
| | CAUTION: Do not use acidic cleaners and do not spray directly onto the equipment surfaces. |

>Electrical Requirements
Dedicated Branch Circuit
It is required that the treadmill be connected to and operated on a dedicated 20 amp ACAlternating Current: electric current which periodically reverses direction between positive and negative polarity. branch circuit. A Dedicated Branch Circuit is defined as a circuit fed by a single circuit breaker feeding a single load, with a single non-shared neutral providing a return line. A treadmill operating from a non-dedicated branch circuit or a circuit breaker of less than 20 amps capacity will not have the necessary power to operate normally under higher load conditions.
120 Vac Systems
120 VACvoltage in an alternating current circuit distribution systems utilize a single pole circuit breaker (power lead) and a neutral lead connected to a common neutral (ground) bar. The AC. safety ground (green wire) is connected to a separate ground bar in the distribution system.
If it is determined that any of the above electrical conditions are in question, please consult with a qualified electrician to make appropriate circuit changes.
| | |
| --- | --- |
| | CAUTION: The treadmill requires a 20-amp individual branch circuit grounded per NEC (National Electric Code) guidelines or local region electric code. |
IMPORTANT

: If the AC circuit feeding a treadmill is found to be a non-dedicated branch circuit or a circuit equipped with a capacity of less than 20 amps, the AC circuit must be corrected before any reliable Troubleshooting can be performed. More importantly, a non-dedicated branch circuit may constitute a safety hazard to the treadmill operator.
Input Power
Nominal 120 VAC models
Operating voltage: 90 VAC to 132 VAC.
Nominal 240 AC Models
Rated Operating voltage: 180 VAC - 264 VAC.
NOTE

: An Internal operating voltage range of 180 – 275 VAC with reduced performance is allowed.
Frame Ground
For operator safety and to minimize electrostatic discharge conditions the AC frame ground continuity must also be verified to be a low resistance connection to the AC distribution ground bar.